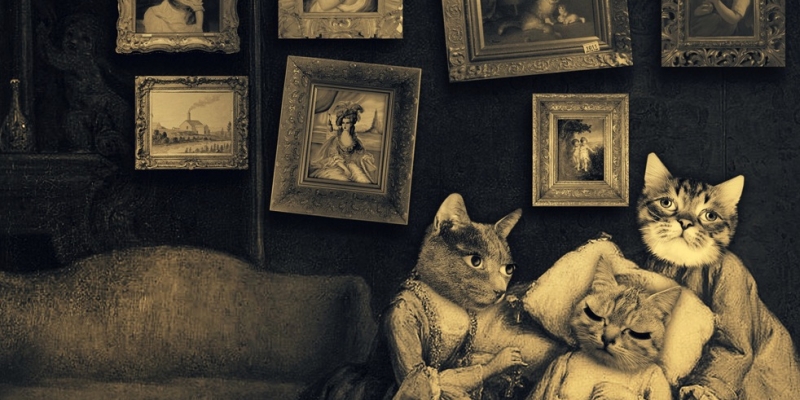 Warning: You May Pass Out From All The Culture
Kingston Art Group Gallery celebrates City of Culture with its brand new exhibition, Stendhal Syndrome.
"Stendhal Syndrome was first documented in the 1800s. People would actually get dizzy, often hallucinate and faint after being exposed to a lot of culture. It would usually happen on their travels to Europe," chuckles Jayne Jones, long-serving member of Kingston Art Group. "We thought that this was a fantastic and extremely appropriate way to finish the Hull UK City of Culture year."
As you walk into the gallery space on Humber Street you can see a plethora of artworks, ranging from paintings, to print work, to photography and even some sculpture. The artists have been allowed to completely cover the walls, ceilings and floors with up to six of their bespoke pieces.
"We haven't curated it at all. Instead, artists, associates and friends of the gallery were invited just to come along and hang their work," Jayne explains. "At first, we were a bit nervous how it would turn out, but I think it looks really eclectic."
Visitors are also allowed to purchase and take home pieces of art as they please, rather than having to wait until the end of the exhibition to collect.
"If you see something you like, just take it off the wall, pay for it and it's yours. We'll then replace it with something else."
Kingston Art Group was established in the 1980s and has become a prominent artistic community in Hull, providing affordable studio and gallery space for budding and experienced creatives.
"At Stendhal Syndrome, there's certainly something that suits everyone's taste, and I think that's what is so great about it," Jayne enthuses. "The City of Culture year has allowed the people to reclaim culture. We've had so many visitors through our doors – thousands at most of our shows. Many people before 2017 would have been a little hesitant to walk into art galleries, but the City of Culture effect has given people the confidence to enjoy art."
Stendhal Syndrome is also a celebration of the gallery itself. The studio will be moving elsewhere in Hull during 2018 and so this collection truly reflects the diverse talent the KAG community possesses.
"Our studio will be moving around March next year, so this is sort of a goodbye party for the gallery. We're hoping to keep a space in the Fruit Market area," Jayne expands. "We've loved being part of some of the bigger Hull 2017 events such as Freedom Festival and Humber Street Sesh."
Stendhal Syndrome runs at Kingston Art Group Gallery until March.