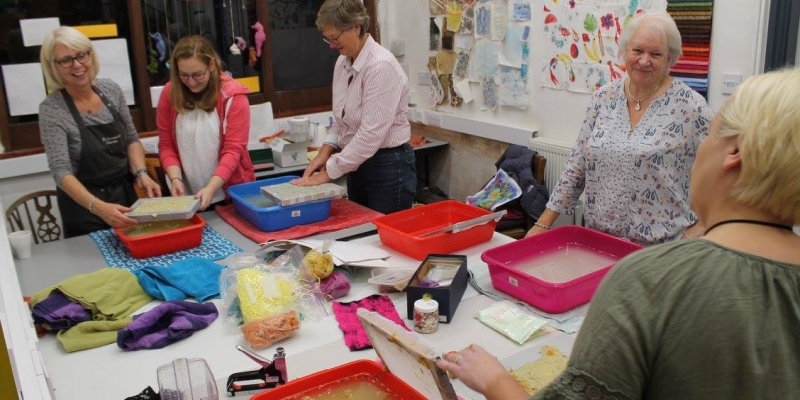 Discover a New Hobby at Traenerhus
Nestled in the heart of Hull's Old Town, Traenerhus is a brand new arts and crafts space.
Its owner and director, Pru Todd, launched the inspiring community-focused project back in July, and it has been well-received by tourists and locals alike.
Pru has been an active and dedicated member of the city's arts and crafts scene for many years, organising craft evenings and meet-ups at local venues such as Lydia's on Newland Avenue, and playing a key role in the Judy's Attic collective.
The latter is a cooperative that promotes the work of creatives through workshops, gift shops and an online directory.
Traenerhus gains its unusual name from the building's original purpose – an old coach house – combined with Pru's Danish heritage.
It was the delightful, bright window that first attracted Pru to the spot. The structure perfectly lights up the large workroom, where crafters can get busy with projects and join a variety of workshops.
"One thing that we were lacking was a space where we could sit and work together," she explains. "A lot of makers often feel quite isolated. With Traenerhus, they can come together, have a cup of tea and make."
Over the next few months, there's a whole host of Cut, Smash and Weave events in the pipeline, which include weaving with textiles, creating willow lanterns, beginner's decoupage, fabric flower wreaths and silk painting.
Run by volunteers, the space is a true community hub, which has received quite a lot of attention from those visiting Hull during our year in the national spotlight.
"We get quite a lot of footfall. Many people come to this area to visit the Museums Quarter and stumble upon our little shop. They're impressed that the items are all made in Hull by local crafters."
As well as frequent workshops and crafternoons, the entrance area has been transformed into a cosy shop where makers can showcase and sell some of their handmade items. The regularly changing stock is all created in the city, so it's ideal if you want to buy a locally-produced gift from the UK City of Culture this Christmas.
You can also treat a loved one (or yourself) to a gift card that allows you to take part in one of their fantastic workshops. Again, these are run by a passionate team of volunteers.  
"It's about being together and telling stories whilst you are making. There are so many health benefits to crafting something of your own," Pru enthuses.
You can find Traenerhus at 167 High Street in Hull. It's open Tuesday to Saturday 11am until 4:30pm. Keep up to date by liking their Facebook page.