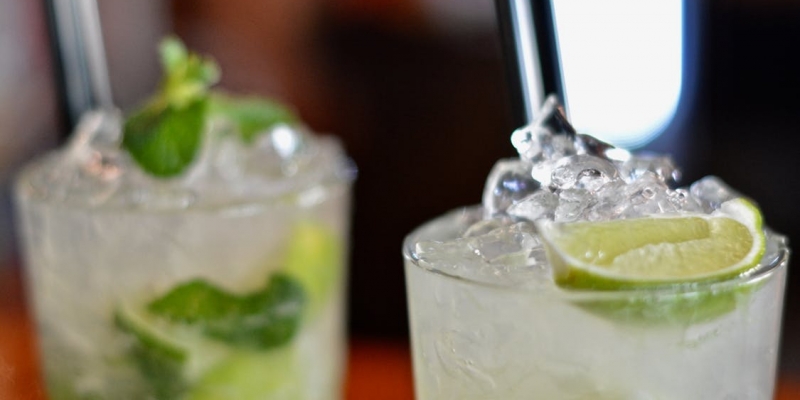 Top Places for Cocktails in Hull
Hull's cocktail scene is thriving at the moment, with many bars offering a wide range of flavours, including their own twists on the classics. We've rounded up some of our favourite places to sip these delicious fruity concoctions.
Bar82
Overlooking the picturesque Princes Dock, this boutique bar prides itself on its elegant style and premium menu. As well as an array of beautiful beverages, a choice of tapas dishes, charcuterie and tasty nibbles are also on offer.
The highlight of Bar82 is surely the stunning outside terrace area. By night it's a slice of paradise in the bustling city. On a sunny day, it may even slip your mind that you're in the UK.
Humber Street Distillery Co.
One of the newest additions to the Fruit Market area, HSDC specialises in the finest gins.
The Roaring Twenties-inspired space encapsulates the era perfectly, with bartenders in braces, candle-lit tables, and plenty of gin to sample. In fact, there are over one hundred different varieties of the stuff. Many of them can be incorporated into a mouth-watering mix, such as the JJ Whitley Nettle, Black Tomato or Curious Tom.
Otherwise, choose from their selection of alternative spirits, such as vodka, rum and whiskey.
Roots Bar
Walk through the door at Roots on Newland Avenue and enter a Caribbean paradise, filled with rum-infused drinks and spicy Jamaican grub. The vibrant venue aims to please its customers with some of the best Afro-Caribbean bites and beverages in the city.
Choose from a diverse menu of cocktails, featuring the usual Sex on the Beach and Margaritas, and the less common Honey Spiced Mojito, Reef Juice and Flamingo.
Meanwhile, soak up the laid-back atmosphere as you listen to the sounds of jazz, blues, reggae, calypso, soul and afro beats.
Florins
Located on the lively Princes Avenue, Florins Bar is a great choice when it comes to cocktails in Hull. The venue itself is stunning, as it was originally home to a traditionally decorated Yorkshire Bank.
Their extensive menu is sure to please everyone, with Prosecco-based drinks, scrumptious martinis and fruity daiquiris. They also serve up their exclusive mixes, including Florins Berry Cheesecake and a whiskey-based Florins Sour.
64 Cafe and Bar at Humber Street Gallery
Providing customers with breathtaking panoramic views of the city, this unique space is actually based inside and on top of Humber Street Gallery.
Bespoke cocktails that celebrate all things City of Culture grace the menu, including the Land of Green Ginger and a Bloody Mary with Chip Spice. The exhibition area is also home to the iconic Dead Bod, a famous piece of graffiti that was a landmark for ships returning home via the Humber Estuary.
If you do head to any of these cocktail hotspots, let us know by tagging us in your snaps on Facebook and Twitter.