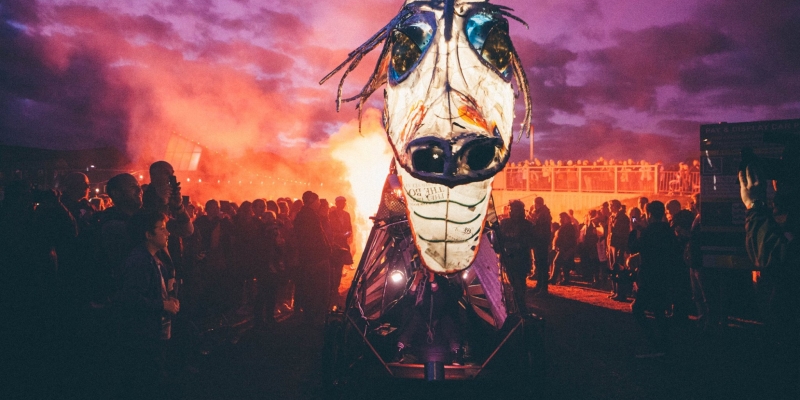 A Celebration of Hull's Independent Spirit
Freedom Festival is just one of many of the city's vibrant urban events. Now in its 8th year, the three-dayer celebrates all concepts of freedom through a vast programme of over 200 live shows, street performances and interactive workshops. Against the backdrop of Hull's beautiful waterfront, as well as situated in the charismatic streets of the city centre, the flagship event will pave the way for the 2017 City of Culture celebrations.
Enjoy an eclectic array of theatre
The city's appetite to become one of the county's cultural hotspots will resonate throughout the weekend of 2-4 September with a real mix of theatre, from street artists to innovative dancers. Hull Truck Theatre kicks off the first night of theatrics, as Aurora Nova presents the internationally praised White Rabbit Red Rabbit, an unconventional piece that includes the actor not reading the script prior to the live performance.
Meanwhile, prepare to be wowed by Sideshow Illusions, an extraordinary attraction that harks back to 1950s circus entertainment. Tingle with terror as you witness before your very eyes Princess Ekmira mutating into an ancient Egyptian mummy, and meet Yvette the Headless Lady as she shakes the foundations of modern science.
If dance is more your thing, Motionhouse's Underground will be right up your street. And quite literally, as the dance company turn Princes Dock Street into their stage at noon on Saturday. Their fantastic quartet piece will also be repeated the following day at the brand new Stage @TheDock; offering panoramic views of the River Hull and Humber Estuary, this visual experience is a must-do for everyone.
Discover Hull's vibrant musical talent
Get a taste of our thriving local music scene at the festival's Main Stage. Having recently performed at the Humber Street Sesh, another one of Hull's major festivals, Bud Sugar will now show Freedom audiences how they fuse a mixture of genres to create a unique live experience.
Explore the impacts of slavery
Students and staff from the city's schools and the University of Hull will come together at the Speak Out Tent, performing original choral music to explore the impacts of slavery. In the meantime, Queen's Gardens will be taken over by the Hull Samba group, who will fill the lush green space with their Brazilian drumming and heartfelt beats.
Witness nationally acclaimed artists
And on top of all that, Mercury Prize nominee Eliza Carthy will perform on the Main Stage at Sunday teatime with her all-star Wayward Band. Commemorating her 20 years in the industry, Eliza will tie together big band sounds with folk vocals to shine a new light on her favourite classics.
Get involved
Why not become part of the entertainment yourself? Head to the Hull Strum area, a collection of upturned boats and eight acoustic guitars waiting to be picked up and plucked. Alternatively, sit back and enjoy the atmosphere whilst someone else's magic fingers provide the harmonies.
Something for everyone
It will also be a great weekend for younger culture vultures thanks to a plethora of workshops and demonstrations, as well as family-friendly comedy and theatre. Let them brush up on their gardening skills at The Allotment and The Vegetable Nanny Make and Take Workshop. Or be amused and entertained by Mother Says, a Ramshacklicious Theatre Company production, which follows an 'overgrown man-boy' as he leaves home in an attempt to become free of his loving but tyrannical mother.
Freedom for Freshers
If you're about to start a new semester at university, it might be a good idea to test out your knowledge before you set off to lectures. The University of Hull have organised a series of bite-sized demonstrations, providing the chance to chat with a group of the region's leading female scientists as they aim to challenge gender stereotypes in STEM careers.
Freedom Festival takes place from Friday 2 – Sunday 4 September across the city centre. For more information and a full programme of events, please visit www.freedomfestival.co.uk.