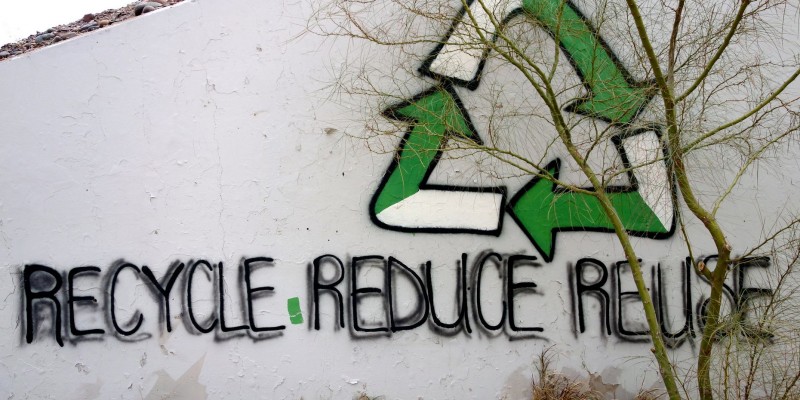 Reduce, Reuse, Recycle
Household recycling
There's no denying that the environment is important. We're not just talking about the natural structures and shapes that you see when driving through the countryside, such as trees, fields, bushes and ponds, or even the animals that live within them; we're talking about the environment as a whole, the natural world and how it can be affected by humanity.
In the same way that it may annoy you that people litter, leaving an empty drinks can or takeaway packaging on a wall, it annoys others that some people put these into the wrong bin. Yes, throwing your rubbish away and keeping Britain tidy is very important, but it's also essential that we help local authorities and organisations to recycle materials as effectively as possible. No council can go through every piece of rubbish that's put in the general waste bin; it's simply impossible due to the sheer size of populations and the refuse that they create. You can do your bit by recycling as much as you can at home and your workplace, and a recycling kit makes it simpler than ever to achieve.
A recycling kit is a great way to kickstart a home recycling routine. By choosing either a pre-labelled set or one that comes with recycling sticker sheets, you can boost recycling to higher levels than ever before. From plastic, paper, glass and aluminium, to general waste, kitchen waste, textiles and batteries, these expertly designed kits are as adaptable as they are effective. Once in place, we suggest the following steps to optimise usage:
— Tell everyone else in the house about them and encourage daily use.
— Place bins in areas that they are most likely to be used. You can then move them if required, e.g. if the bin for cans isn't being used in the kitchen, move it to the living room. If the one for plastic is filling up too quickly, add a second one.
— Make sure to have a paper bin in your home office or next to your computer.
— Give food packaging a quick rinse first to reduce bacteria and odours from building up inside the bins.
— Use a bin liner and empty regularly, rather than leaving it until the bag reaches bursting point.
With Hull City Council recycling operatives refusing to empty bins that contain the wrong materials, not to mention the possibility of a fine, recycling is more important than ever before.
Tips for reusing materials
Almost everything can be reused in some way or other, and below are a few examples.
Newspapers, magazines, cardboard and bubble wrap can be used as packaging for everything from posting items to moving house.
Carrier bags can be reused multiple times. Once they've reached their useful limit, they can then be used as bin bags for recyclable items or general waste before being disposed of in the appropriate bin.
Old clothes that are too tatty to be donated to charity can be cut up and turned into cushion covers, handkerchiefs, tea cosies, pocket squares, headbands and all manner of fashion accessories.
Car tyres can be given to a petrol station, where they will be properly recycled. Or if you're feeling creative, you could build a tyre swing, use some as a rugged form of garden decoration, or donate them to a local arts scrap store for use in community initiatives.
Wood can be used for DIY projects, upcycled into attractive home décor, or simply burnt on fires and inside chimineas rather than buying wood specially.
Grass cuttings can be left on your lawn for a while so that all of the nutrients soak into the ground. You can also use fresh grass cuttings in your compost heap for separating layers. Unwanted grass can then be added to your organic bin.
Old electrical equipment can sometimes be used by schools, hostels and small businesses. If not, make sure to send it to your local recycling centre.