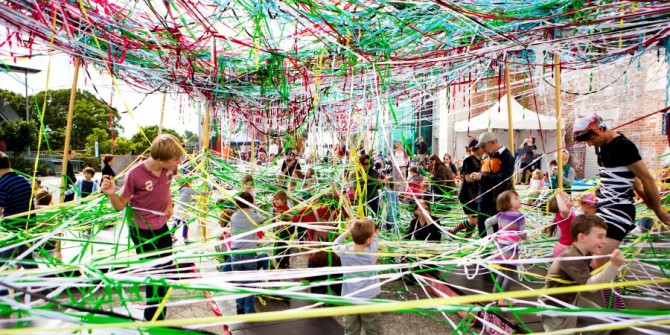 Freedom Festival 2015
Eight years ago, Hull celebrated Wilberforce 2007. This 34-week event paid tribute to the pioneering work of Hull-born MP William Wilberforce, and the bicentenary of the abolition of the slave trade in the British Empire. The celebrations stretched across the city as well as to other countries, including Ghana. The concept proved so popular and valuable, it was decided that Wilberforce's legacy needed to be marked and celebrated annually, and with that the Freedom Festival was born.
Since then, the Freedom Festival has invited artists, musicians, theatre-makers and many other types of performers to bring a spectrum of cultural activity to Hull, with activity taking place in Queen Victoria Square, the Museums Quarter, Hull University, various arts venues, and especially the marina and Humber Street area. The festival always makes reference to the concept of 'freedom', pushing boundaries to express it in a variety of ways whilst remaining fun, vibrant, accessible and suitable for everyone.
This year's edition of the Freedom Festival runs from Friday 4 until Sunday 6 September and the line-up is incredibly wide-ranging. Introducing residents and visitors to new experiences, you'll find a fiery production of Faust beside the Tidal Barrier, super-clever science buskers in Queens Gardens, and Tangle, a giant weaving play-space event that uses coloured elastic to create a vibrant, live interactive artwork made by children and their families. Fans of Doctor Who are also in for a treat, as BBC Make It Digital will be there as part of a major UK-wide initiative that invites you to become a Dalek and learn how to code the weather! Add to that more than two-dozen other events, small street performances, market stalls, lots of food, plenty of locally brewed beer and beautiful surroundings, and you have yourself one amazing weekend.
We absolutely love the Freedom Festival. Not only is it a fantastic experience from start to finish, but the vibe is absolutely wonderful too. With over 100,000 attending over three days last year, you'll see all walks of life and people of every age come together to enjoy something extra special. There's no way you can see everything that's on, so we recommend checking out the line-up and getting organised beforehand. However, it's also great to do a bit of exploring, as the marina area offers hidden corners, centuries of heritage, picturesque views, historical sculptures, cobbled streets and many other gems. Whether you eat at Thieving Harry's or 1884 Dock Street Kitchen, grab a drink from Fruit or one of the many pop-up bars, visit the art galleries or relax on the pier with an ice cream, you're bound to make plenty of memories even between main events.
We'd love to see your photos and videos of the Freedom Festival, so please do share them with us on our Facebook and Twitter channels, including #FreedomHull. Most importantly of all, discover the power of freedom!